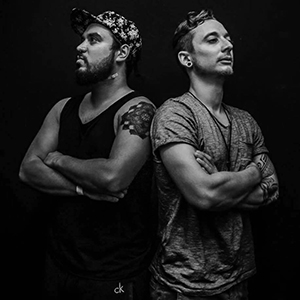 RückSicht is a swiss DJ team entering national and international stages. They produce fresh, new sounds in the world of electronical music and are performing their tracks to pleasure the audience.
The two DJ`s Marc and Silvan know each other for a long time and after a decade they decided to go on a musical journey behind the mixing deck together. In cooperation with friends of the local night-life community they proved their skills on the jogs and wheels already on many occasions indoors and outdoors.
Their live performances are convincing and their mixes make every party a sweaty dancing night. Cheered by the crowd they drop a powerful blend of progressive and psy trance.
After having a contract with Savva Records by 2013 the DJ team RückSicht works since 2016 with Triptonite and counts on their collaboration and support, so the electronic enthusiast awaits lots more to come.
RueckSicht est un DJ team suisse qui entre sur les scènes locales et internationales. Ils jouent et enregistrent des nouveaux sons qui enrichissent le monde de la musique électronique.
Les artistes Marc et Silvan se connaissent depuis longtemps et ont décidé de commencer un voyage musical derrière les platines ensemble. En coopération avec des amis de la vie nocturne locale ils ont déjà prouvé leur savoir-faire sur plusieurs occasions soit il dedans ou dehors.
Ils savent convaincre leurs spectateurs avec leurs apparitions en direct et leurs mixes les forcent à danser toute la nuit avec un mélange puissant de progressive trance et du genre psy.
Après ils ont fait un contrat avec Savva Records en 2013, ils collaborent depuis 2016 avec Triptonite et comptent sur leur support pour que les passionnés de la musique électronique puissent attendre beaucoup à venir de cette combinaison créative.